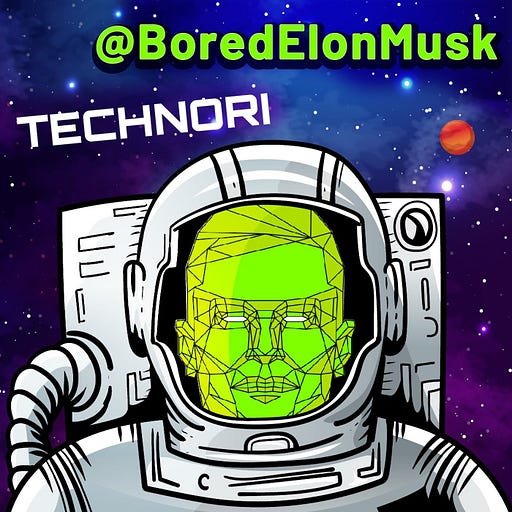 Jan 5 • 34M
Bored Elon Musk on Elon, startups, crypto and pseudonym life
Scott Kitun is joined by a rotating cast of tech and media personalities to break down the latest in startupland.
On The Pod
Bored Elon Musk, a pseudonymous influencer, joins Scott Kitun on the pod. Bored has built his following over most of the past decade on Twitter. What started out as a joke account gradually - alongside the growing notoriety of Elon Musk - into an influencer account with over a million followers. Bored shares how he built his following and monetized his account, including his Bored Box. Scott and Bored talk about the idea of playing a character as a business, performing in good faith and best use cases for crypto and NFTs. Bored also talks about distancing his brand separate from Elon and shares a few thoughts on the latest Twitter company news. 
---
It's no coincidence that the same 20 venture firms make the Midas list every year!
They have an edge… And, now so do you! Join 10,000 investors using Edge to access the best deals and the best data available to the online private market.
---
Security Type: Equity - Common
Valuation: $133,555,405
Amount Raised: $624,461
Minimum Investment: $250
Brief: Apis Cor is a construction technology company that has developed a robot that can 3D print houses. Its robot is capable of building the walls for up to three house floors. Apis Cor claims it can reduce total construction costs by up to 30%, diminish waste, and significantly reduce construction time.
Key People: Co-founder, CEO, and Director Anna Cheniuntai; co-founder, Director, and CTO Nikita Cheniuntai (invented Apis Cor technology and author of patents related to Apis Cor).
Already an Edge member? 👉 Check the Charts 📈 
Bullish Outlook
Here's what I like: 3D printing offers some unique advantages over traditional brick-and-mortar construction or timber framing. For starters, it's a much faster construction process than conventional building techniques. Additionally, 3D printing produces less waste than traditional construction methods (by using precise measurements to ensure that no material is wasted or lost in production). It can also significantly reduce overall construction costs by using eco-friendly materials such as recycled plastics, metals, and concrete throughout the construction process. Not to mention you need way fewer people on the job when you have a robot doing the bulk of the construction.
Bearish Outlook
Here's what I don't love: 3D printed homes and buildings may offer more customization options than traditional construction techniques do. But those options are still limited to the capabilities of the printer — which means for now your neighborhood will probably just looks like something out of SIM City 🤷‍♂️.
Another big question I have is, how do 3D printed buildings age? Like, how TF do you alter them structurally? And while I certainly appreciate how new materials can offer better resistance to natural disasters (such as earthquakes and floods), I'm genuinely curious how they last over time. There are a lot of unknowns that I think will ultimately decide whether this technology truly takes off or not.
Takeaway
Who should invest and why: It's pretty believable that building foundations of the future will likely utilize some variation of 3D printing, but I struggle to see how it scales beyond temporary housing for the near-term. While the 3D printing construction market is growing rapidly, it's still relatively small at $3.184 billion, and it could take a decade or more to mature.
This deal is probably not ideal for short-term investors. And given the current market demand, it's nearly impossible for me to overlook the $130M valuation the founders are asking for — especially considering Apis Cor is just a 5-person team generating less than $250k in annual revenue.
That said, I've seen crazier things happen and there is of course always the possibility that once we populate Mars (or the Dakotas), Apis Cor could be in a prime position — I only wish the entry point wasn't so steep!
As always, startup investing is super high-risk, and anything can happen. Don't invest anything you can't afford to lose.
Invest in Apis Cor here 👉 Term Sheet
DM's open on Twitter & IG 🤳 @kitun.